Wow – Top Kitchen! - Top Team - Top Food!
The Kitchen:
We are proud to have the very latest kitchen equipment and technologies on-site including World-Class Rational Combination Ovens, Valentine Fryers and Blue-Seal Grills and Hobs. All installed by our friends from Allsopp & Pitts, with a custom designed and installed Vent-Extraction system to meet and exceed all the latest and most stringent standards.
The Team:
Our kitchen team follow our guiding principle of using the best, fresh seasonal ingredients, sourced locally from Devon and the South West wherever possible, which fortunately is most of the time located here in the fantastic Dart Valley. This area is full of all of the best produce that Devon can provide with excellent seafood and a huge array of fresh produce in every season from our beautifully productive green countryside, plus another huge volume of freshly produced products Devon Artisan producers and dedicated manufacturers – hence our full membership of Food & Drink Devon. Plus we have our talented in-house Baker and Pastry Chefs producing ALL of our cakes and desserts, as displayed in our all-Homemade Patisserie Display Cabinet – simply heaven!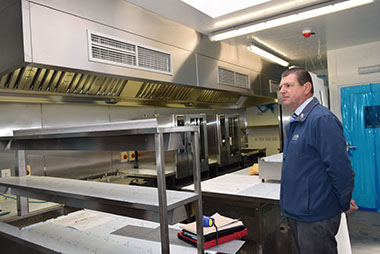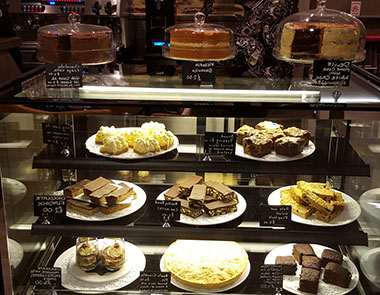 The George & Dragon is a favourite 'Go-to' for food in Dartmouth! Our talented kitchen team focus on producing top quality home cooked food at competitive prices. We strive to provide something for everyone, encompassing any dietary needs of our guests, including a dedicated Gluten Free Menu and weekly Vegan Specials, all giving great value for money with top Customer Service - You are always assured of a warm welcome and good food at the G&D!
Our menu is deliberately kept relatively short to ensure quality and freshness, with more seasonal Homemade dishes on Chef's Specials Boards, plus a children's menu that is served at lunch and evening.
We also very much understand the difficulty of feeding kids on a family occasion and when on holiday – and without breaking the bank! Therefore our Children's food is also very much homemade and top quality ingredients, all based on what our own children and grandchildren would eat and enjoy – so that you can confidently relax and enjoy your own meals as well!
You can view or download the 'George & Dragon Children's Menu' (See page 2) here. If they fancy something sweet after, we have a selection of locally made, Dartmouth Devon ice cream they can enjoy, as well as other freshly made options, so take a look at our selection of scrumptious homemade cakes and pastries.
Another advantage at the G&D is that unusually for Dartmouth, we have lots of space and can comfortably seat parties of up to 40 in our Boat Room Restaurant for Special Events; or more than 100 people when the G&D is booked for Private Functions - We can serve set meals, or provide a top quality buffet for the guests at your function.
We think you will enjoy our 'real food' and here you can view and download our current 'Lunch & Snack Menu' - Served 12noon to 5pm, plus our Evening Dinner Menu - Served 5pm to 8pm.
NEW: There is also our Flavel Meal Deal Menu on Saturday for Kids and their parents or other Adult Handlers, going to the Flavel Cinema just opposite the G&D
For larger parties of 10 or more we can also provide 'Set Menu Options', tailored to your specific requirements, which by pre-ordering this ensures we will always have your guests preferred choice available and ready to cook from fresh, and also ensure service of everybody together in the most efficient and timely way. If you have any questions or need more information about a function then please just give us a call on 01803 832325
For larger parties to celebrate special any events such as Birthdays, Christenings, Engagements, Weddings, Wakes, Reunions, and any others, our experienced function team will certainly look after you and your guests to make it a success. Just let us know what you would like for your function or special family or business event, give us a call on 01803 832325 and one of the Management Team will be pleased to assist you.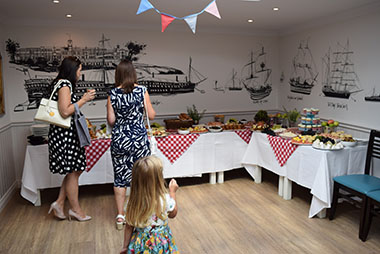 Gallery Of Foods at the G & D